(The featured image was created by myself, however credit for the initial template goes to WebMD).
With the UK having gone into lockdown earlier this week, we find ourselves in some pretty uncertain times. It's likely that each of us will be dealing with the stress of current events in our own different ways.
Some of us are using this time to develop new skills and have, for instance, taken up painting or taken to baking sourdough, while others of us have decided to take part in 'The Great Toilet Roll Grab' in the local Tesco ahaha.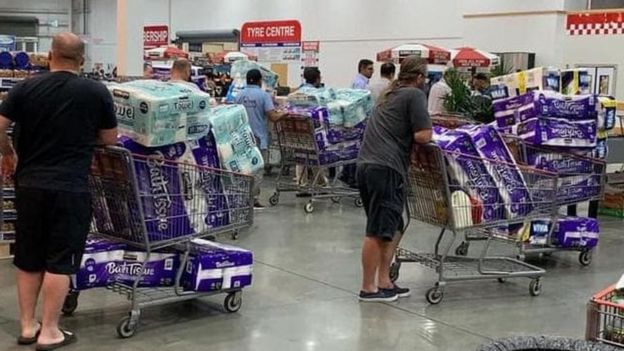 In my family, just three days into lockdown, having shaved off all of their hair, two of my brothers are wandering about sporting the Britney circa 2007 look. As for myself, I've been taking this time to play lots of badminton, have tried my hand at baking and have gotten into gardening.
I've also taken this time to go through what seems to be the bazillion skincare products that I've bought over the last year. In doing so, I've come across three of my favourite face masks which I've decided to share with my readers, because if there's ever a time to apply some tender, love and care into our lives, it's now right?
Without further ado, I give you my three favourite face masks which are sure to keep your skin glowing during this lockdown!
(1) Himalayan Charcoal Purifying Glow Mask
I'm starting off with a cult favourite that most likely won't come as a surprise to those of my readers who are into their skincare. In fact, with one of these purifying glow masks flying off the shelves globally every 15 seconds, I'll be shocked if you don't already have one of these in your skincare cabinet. I myself, have purchased this mask a good three or four times because I love it so much.
And here's why: this mud-textured exfoliating mask actually leaves your skin glowing.
Made from a combination of bamboo charcoal which has been sourced from the Himalayan foothills, together with green tea leaves from Japan, this glow mask has an earthy and floral fragrance to it. Upon application, the mask dries up and tightens around the face and it sort of looks like you have dried-up bird poop on your face ahaha. (Can you tell I most certainly haven't been commissioned to write a glowing review on behalf of The Body Shop lol)?
All jokes aside, if you can tolerate the bird-poop-esque look of the drying mask on your face, you stand to benefit from the deep cleanse that this mask gives the skin, ridding it of any impurities.
I actually like to think of this mask as being a multi-purpose mask because not only does it deep cleanse the skin, but the granules (of visible dry green tea leaves) that it is made up of, also helps to exfoliate the skin, leaving your face visibly brighter and youthful-looking when you take the face mask off.
I should also mention that there is a slight tingling sensation on the skin before the mask dries up and if you have sensitive skin, this is probably something that you should note. As I have normal skin, this wasn't really an issue for myself.
The mask is well packaged and comes in a lovely glass jar and I think that it's reasonably priced in that you get 75ml for £18. The Body Shop are also selling smaller 15ml jars for £6. Should you wish to try this charcoal glow mask, you can order yourself a jar at: www.thebodyshop.co.uk
(2) Fresh – Vitamin Nectar Glow Face Mask
With it's jam-like texture and distinct citrus smell, Fresh's Vitamin Nectar mask is unlike any other mask that I have tried before. For one thing, I think this is the first mask that I have tried which is so jam-packed full of citrus-fruits; it's made up of a combination of oranges, clementines and lemons together with a blend of vitamins C, E and B5.
Given that this is a rich Vitamin C based mask and the fact that it looks very thick and jam-like, I was slightly apprehensive that the mask would be sticky but thankfully that wasn't the case. Although the mask looks heavy and quite chunky, it's gel-like consistency makes for an easy application. The mask doesn't slide down the face and applies quite well, leaving behind a slight orange tint on the face.
One of the best things about this mask is its smell – it has a delicious fresh orange smell that I love.
Fresh have certainly made some bold claims about this particular mask, stating that during their testing, the mask improved participants' skin glow by 31% after one use and by 49% after a month's use. Although I was skeptical of these stats before using the mask, after just one use, I was happily surprised to notice just how glowy my skin looked! Not only did my skin look glowy and radiant, it also felt supple and soft.
While this is definitely a mask that is on the pricier side of the spectrum, costing £52 for 100ml, the fact that I could see actual chunks of fruit in the mask helped in reassuring me that my money had gone towards picking up a quality mask made of real fruit and fresh ingredients.
When I first picked up this mask, I think Fresh products were only available from a selected few stores and online stores. At the time, I picked my 100ml mask up from Harrods although I have noticed that since then, this mask is being sold in John Lewis and on online retailers such as CultBeauty. For those of my readers who would like to gauge whether this product is for them without spending so much on a product they aren't yet sure is for their skin type, I have noticed that certain retailers such as John Lewis, are selling a 30ml jar for just £21. You can pick up a jar at: https://www.johnlewis.com/fresh-vitamin-nectar-vibrancy-boosting-face-mask-to-go-30ml/p3271001
(3) TONYMOLY Face Masks
When it comes to skincare, it's fair to say that Korean Beauty is at the top of the game. So when my brother decided to take a trip to Japan two years ago, I milked the opportunity to get my hands on as many K-beauty products as possible. And like the lovely brother that he is, at the end of his six weeks in Japan, he arrived back to the UK armed with lots of skincare goodies.
Amongst these goodies was a collection of about 20 to 30 TONYMOLY face masks. And this is how I came to learn of this brand. I loved these masks so much and used them all up pretty quickly and two years later, they are a frequently bought staple in my skincare cabinet.
Individually packed, you get one sheet mask in each packet and unlike the charcoal mask and the glow mask, the TONYMOLY masks are sheet masks. The sheet form of these masks make them incredibly easily to apply only your face – you simply take a sheet mask out from the packet and place it on your face. I leave mine on for about 20 minutes and then throw the mask away and rub the excess serum into my skin.
What you so often find with sheet masks is that they tend to be very thin and sometimes flimsy, making them very easy to tear. Fortunately, this isn't the case with these TONYMOLY masks.
Each mask addresses a specific skin concern, for example, one mask might aim to radiate while another serves to promote elasticity. What all of the masks do have in common is that they are all so incredibly hydrating – in fact, you will note that as soon as you open up the packet, the mask is absolutely drenched in various oils, aloe and water.
Of the three masks I've reviewed, these masks by TONYMOLY are probably the most convenient. I tend to reach out for them when I've had a long week at work and am having a very lazy weekend. I try to make sure I'm always stocked up with these face masks in the summer because they feel so, so good and cooling on a hot summer's day.
TONYMOLY face masks are widely stocked across the UK, available every where from Boots to Selfridges, with each mask costing £5. I buy mine from: www.beautybay.com/l/tonymoly
Have you tried any of these masks? I'd be interested to hear what you think of these masks and which is your favourite. As ever, I am only a DM away on @franklyfahmida on Instagram or alternatively, the comment box down below is open to you all.